Public Auction
Saturday, June 17, 2017 at 10:00am
House and Contents with Real Estate Selling at 10:00am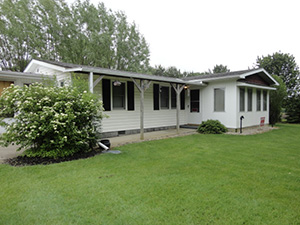 OPEN HOUSE
Monday, June 5th 4:00pm to 6:00pm
LOCATION: 424 Pemberton St., Sycamore, OH. On the south east edge of town.
TO BE SOLD AT 10:00 A.M. Well maintained one-story 1,219 sq. ft. (3) bedroom, (2) full baths home. There is also a 28' x 48' heated garage w/shop and a metal storage shed. All this is situated on 1.8 acres with a half acre pond w/a dock. This home also has city water & sewer amenities.
Tract #1: Parcel #36-178000.0000 with 1.8 ac and Parcel #36-178001.0000 with .54 ac
Tract #2: Parcel #36-178002.0000 with .22 ac. and Parcel #36-178004.0000 with .07 ac.
On this tract is a 1974 Parkwood manufactured home with a small shed.
Terms and conditions: $2,500 for Tract #1 and $1,000 for Tract #2 non-refundable down-payment due at auction. The balance is due at the closing. Please have your finances In order. Closing will be within 45 days. Taxes to be pro-rated to closing. Any inspections to be completed before auction. Seller reserves the right to final confirmation. This property to be sold AS-IS, where is with no implied warranties.

Home of the late
Donald Dunn

*Note: Any announcements made day of auction takes precedence over any written material.
MARK YOSICK, AUCTIONEER/REALTOR
419-492-2042
mark@markyosickauctioneer.com
www.markyosickauctioneer.com
GARBERICK REALTY CO.
920 East Mansfield St., Bucyrus, OH 44820 — 419-562-5051